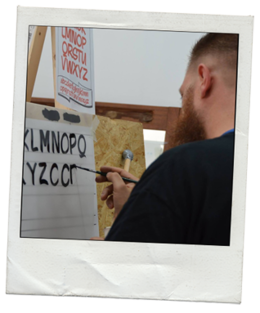 Who?
I'm Lauri Lehtonen, 36 years old and I live in Finland. Currently studying a vocational degree of Artisan in Modeling and Object Design, specializing in 3D printing and modeling at Ikaalinen College of Crafts and Design.
Besides that I'm part time graphic designer, desktop publisher, sign painter and pinstriper. I like to make things with my hands but also like to benefit the modern computer technology and software.
Education
Vocational upper secondary education and training of desktop publishing and printing ̶
Tampere Vocational Institute 2010
Vocational upper secondary education and training of construction and house building ̶
Nokia Vocational Institute 2002

Skills
I have a good visual sight. I'm familiar with Autodesk Fusion360 and Solidworks. I know the basics of Autodesk Inventor, AutoCAD, Agisoft Photoscan and GOM Inspect. I'am also good with Adobe Photoshop, Illustrator and InDesign. I can fabricate things from blueprints or design as I work.
I'm familiar with 3D scanning, photogrammetry and basic presentation techniques.
Hobbies
I'am vintage car and motorcycle enthusiast. I like handcrafts, making things and building scale models.
Contact
If you like my work, have something to ask or just want to say hi, please send me a message.
lehtonen.laurimo(at)gmail.com